Cybersecurity in the Castle, l'evento esclusivo di Euris Technology
Una location suggestiva per "Cybersecurity in the Castle", l'evento di Euris Technology in partnership con Sophos che presenterà le novità tecnologiche a tema Cybersecurity.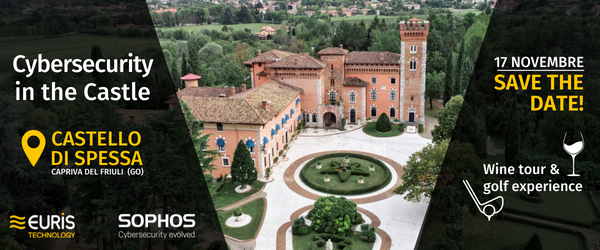 Oggi la cybersecurity è ormai al centro dell'agenda di ogni impresa, in un panorama in cui gli attacchi informatici sono non solo sempre più frequenti, ma anche molto più evoluti. Fortunatamente, la tecnologia ci viene in soccorso con soluzioni e strumenti sempre più innovativi. Il 17 novembre, presso il Castello di Spessa a Gorizia, Euris Technology presenterà la sua offerta per offrire un servizio a tutto tondo.
Un'occasione di condivisione su temi cruciali per la sicurezza delle aziende, costellata da momenti di convivialità: un pranzo con degustazione di vini del territorio e la visita alle cantine medievali del Castello.
Sei interessato anche tu ai nostri eventi? Iscriviti alla nostra newsletter, ti terremo aggiornato!